Virtual University of Bavaria (vhb)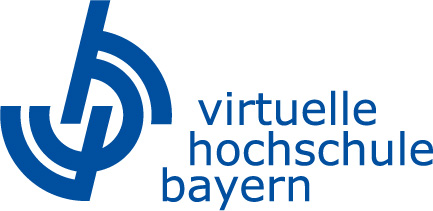 The Virtual University of Bavaria (vhb) is a network of Bavarian universities. It offers online courses as well as shorter learning units that are designed to supplement your on-campus studies. All vhb content is developed by lecturers at the host universities, including TUM.
As a student of our university, you can use the online courses of the vhb free of charge with tutor supervision. At www.vhb.org, you will find detailed information. The course program kurse.vhb.org provides detailed descriptions and demos of all courses. Please contact your academic advisor to find out whether vhb courses can be recognized in your TUM study program.
Through OPEN vhb, you will find shorter, open courses at the university level which may be of interest to you and the general public. Here you will also find courses that you can take in preparation for, or during, your studies. These courses are not designed to be taken for credit. The OPEN vhb course overview can be found at open.vhb.org.
As a lecturer, you will find support from vhb not only in developing and implementing online courses across universities, but also in integrating existing digital courses into your teaching. In a repository, you will find online learning units of 45 minutes each for blended learning, which can be flexibly integrated into classroom teaching. You can also contribute to the repository yourself and set up blended learning units. Further information can be found at www.vhb.org/lehrende.
Online courses: CLASSIC vhb and OPEN vhb
The vhb promotes both the development of online courses that are based at the host universities (CLASSIC vhb) and the creation of open online courses accessible to all interested parties free of charge (OPEN vhb).
Course development
Are you a lecturer interested in developing a vhb online course? Information on how to develop courses is available at https://www.vhb.org/lehrende/kurse/
Dates for funding round 2022-I:
30.04.2022: Deadline for submission of funding applications
15.07.2022: Announcement of the accepted funding applications
01.09.2022: Fearliest possible project start
Information and forms, visti https://www.vhb.org/lehrende/kurse/foerderung/foerderrunde-2022-i/
Course implementation
Do you have questions about your vhb course? A list of frequently asked questions is available at https://www.vhb.org/vhb/faq/
Blended learning units: SMART vhb
Development of SMART vhb learning units
The new SMART vhb funding supports the development of blended learning units, which are made available to all teachers at the host universities.
Information about blended learning with SMART vhb
Dates for funding round 2022/2023:
until 15.05.2022: Submission of funding applications by the sponsoring universities
31.07.2022: Issue of funding decisions
until 31.08.2022: Return of the consent forms for the funding decision to the vhb
from 01.09.2021: Project start: Development of learning units
until 15.10.2022: Submission of the financial plan
until 31.10.2022: Return of the declaration of consent to grant the rights of use to the vhb by the providers of the learning units
15.01.2023: End of project 2022/2023: latest date for posting the learning units in the repository
15.12.2023: Submission of the proof of use and the factual report
Applications for funding are submitted centrally via the sponsoring universities. The application documents will be sent to the central contact persons or vhb representatives at the universities at the end of February/beginning of March 2022.
Please note that for the SMART vhb funding line a collective application has to be submitted by the university. Therefore, if you are interested in developing one or more blended learning units, please contact Elvira Cyranka in time.
Use SMART vhb learning units and enhance your own teaching
As members of the vhb member universities, TUM lecturers can access the SMART vhb repository and view content using their individual university ID via Shibboleth authentication.
The vhb also provides an overview on its website with information on all learning units that have been developed or are currently being developed within the framework of the previous funding rounds. You can access the overview here: https://www.vhb.org/lehrende/smart-vhb-blended-learning/lerneinheiten/
Trainings and workshops of the vhb
Introductory workshop "Development of CLASSIC vhb courses" (05.10.2022)
On October 5th, 2022, the next online introductory workshop "Development of CLASSIC vhb courses" will take place. Focused entirely on the requirements of the CLASSIC vhb line of offerings, participants will receive an overview of didactic planning, project management, course implementation and support in the one-day online event. Best-practice examples of various authoring tools and video software will be used to provide practical suggestions on how to start developing and designing your own course projects.
Course language: German
Further information and online registration:
https://www.vhb.org/veranstaltungen/
Registration: until 22.09.2022 (max. 25 people)
E-Tutor training: 19.09. until 30.10.2022 (Online presence session: 22.09.2022)
The effective and continuous support of students in their learning process is an essential element for the acceptance and success of e-learning.
The vhb's e-tutor training therefore offers you and your employees the opportunity to be trained as an e-tutor.
During the training you will learn,
what tasks an e-tutor has and how he/she can perform them effectively
how online learners can be supported individually and in groups and
how virtual courses are organized and technically supervised.
During the training, the participants gain practical experience from the e-tutor's perspective and from the learner's perspective.
The training course is aimed at all interested parties who are tutors of existing vhb courses, but also at project managers and project staff whose courses are still being developed, as well as at multipliers for e-learning at the vhb member universities.
The e-tutor training takes place on the learning management system Moodle.
It consists of an online presence session and a 6-week online phase. The costs of the training are borne by the vhb.
Training language: German
Further information and online registration:
https://www.vhb.org/veranstaltungen/
Registration: until 11.09.2022
Online Workshop "Update: Copyright & Data Protection in Online Teaching" of the Virtual University of Bavaria (vhb)
On July 06, 2022, the vhb will host an online workshop on "TUpdate: Copyright & Data Protection in Online Teaching" from 10:30 a.m. until 12:00 a.m.
Speaker: Prof. Dr. Achim Förster, holder of the professorship for copyright, media law and media policy as well as vice president for teaching, studies and further education at the University of Applied Sciences Würzburg-Schweinfurt.
Workshop language: German
Copyright and data protection issues are omnipresent in (online) teaching. In the future, vhb will hold an update workshop once per semester, focusing on current (legal) developments, individual aspects of legal regulations, and case studies from everyday university life. Starting with an impulse lecture, the questions and practical examples submitted in advance by the participants will determine the thematic course of the event. There will also be an opportunity to ask questions during the workshop.
Please note:
This workshop is not a general introduction to copyright and privacy in online teaching. For preparation, the vhb therefore recommends the recordings of the online workshop series "Legal Issues in Online Teaching" from 2021.
You can find the recording links, more information about the event, and how to register at www.vhb.org/veranstaltungen/.
Registration: To participate, online registration is required by 04.07.2022.
Contact
The vhb representative at TUM is Dr. Anderas Fleischmann (ProLehre | Media and Didactics). He represents the TUM and is responsible for all vhb matters.
Teachers and employees of TUM are welcome to contact Elvira Cyranka (ProLehre) with questions and suggestions regarding CLASSIC vhb, OPEN vhb and SMART vhb.
General questions and suggestions concerning vhb should be addressed directly to vhb: info(at)vhb.org.