Virtual University of Bavaria (vhb)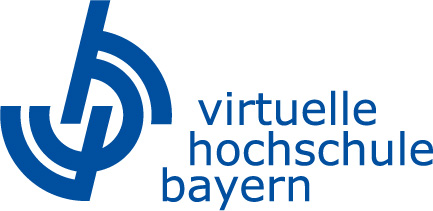 The Virtual University of Bavaria (vhb) is a network of Bavarian universities. It offers online courses as well as shorter learning units that are designed to supplement your on-campus studies. All vhb content is developed by lecturers at the host universities, including TUM.
As a student of our university, you can use the online courses of the vhb free of charge with tutor supervision. At www.vhb.org, you will find detailed information. The course program kurse.vhb.org provides detailed descriptions and demos of all courses. Please contact your academic advisor to find out whether vhb courses can be recognized in your TUM study program.
Through OPEN vhb, you will find shorter, open courses at the university level which may be of interest to you and the general public. Here you will also find courses that you can take in preparation for, or during, your studies. These courses are not designed to be taken for credit. The OPEN vhb course overview can be found at open.vhb.org.
As a lecturer, you will find support from vhb not only in developing and implementing online courses across universities, but also in integrating existing digital courses into your teaching. In a repository, you will find online learning units of 45 minutes each for blended learning, which can be flexibly integrated into classroom teaching. You can also contribute to the repository yourself and set up blended learning units. Further information can be found at www.vhb.org/lehrende.
Support in times of CORONA
Make your own online courses available throughout Bavaria via the vhb
Do you have an online course offering that you would like to make available temporarily to other universities?
The vhb will set up a new subject group "Additional online courses offered by the responsible universities" in the vhb course programme. The courses are thus accessible to all students of the sponsoring universities via the single sign-on system of the vhb.
Note: The course does not have to be in the usual CLASSIC vhb format and an ECTS-compatible, complete online course. It is not intended to issue credits or to provide student support by the creators of the course offering. This is the responsibility of the sponsoring university if required.
Prerequisite: The development of the course offering was not supported by the vhb and the offer must be accessible via the TUM learning platform Moodle so that this can be integrated into the vhb course programme.
Blended learning units for the SMART vhb repository are also welcome and can be included temporarily.
If you would like to make a contribution with your online course offer, please contact the management or the project management of the vhb.
Online courses: CLASSIC vhb and OPEN vhb
The vhb promotes both the development of online courses that are based at the host universities (CLASSIC vhb) and the creation of open online courses accessible to all interested parties free of charge (OPEN vhb).
Course development
Are you a lecturer interested in developing a vhb online course? Information on how to develop courses is available at https://www.vhb.org/lehrende/kurse/
Dates for funding round 2021-I:
30.04.2021: Deadline for submission of funding applications
15.07.2021: Announcement of the accepted funding applications
01.09.2021: earliest possible project start
For information and forms, visit https://www.vhb.org/lehrende/kurse/foerderung/foerderrunde-2021-i/
Course implementation
Do you have questions about your vhb course? A list of frequently asked questions is available at https://www.vhb.org/vhb/faq/
Blended learning units: SMART vhb
The new SMART vhb funding supports the development of blended learning units, which are made available to all teachers at the host universities.
Information about blended learning with SMART vhb
Dates for funding round 2021/22:
until 15.05.2021: Submission of funding applications by the sponsoring universities
from 01.09.2021: Project start: Development of learning units
15.10.2022: latest date for discontinuation of course units
If you are interested in developing one or more blended learning units, please contact Elvira Cyranka.
Trainings and workshops of the vhb
E-Tutor training (22.02. until 04.04.2021)
The effective and continuous support of students in their learning process is an essential element for the acceptance and success of e-learning.
The vhb's e-tutor training therefore offers you and your employees the opportunity to be trained as an e-tutor.
During the training you will learn,
what tasks an e-tutor has and how he/she can perform them effectively
how online learners can be supported individually and in groups and
how virtual courses are organized and technically supervised.
During the training, the participants gain practical experience from the e-tutor's perspective and from the learner's perspective.
The training course is aimed at all interested parties who are tutors of existing vhb courses, but also at project managers and project staff whose courses are still being developed, as well as at multipliers for e-learning at the vhb member universities.
The e-tutor training takes place on the learning management system Moodle.
It consists of an online presence session and a 6-week online phase. The costs of the training are borne by the vhb.
Further information and online registration:
https://www.vhb.org/veranstaltungen/
Registration: until 18.02.2021
Contributor Workshop SMART vhb: Development and Provision of Learning Units in the Repository
Date: 02.04.2020, 10:30 - 15:45 - Canceled - The vhb will try to reschedule the event at a later date.
An overview of current vhb training courses is available at https://www.vhb.org/veranstaltungen/
The vhb representative at TUM is SVP Dr. Hans Pongratz. He represents the TUM at the general meetings of the vhb and is responsible for all vhb matters.
Teachers and employees of TUM are welcome to contact Elvira Cyranka with questions and suggestions regarding CLASSIC vhb, OPEN vhb and SMART vhb.
General questions and suggestions concerning vhb should be addressed directly to vhb: info(at)vhb.org.